Thursday, 07 November 2013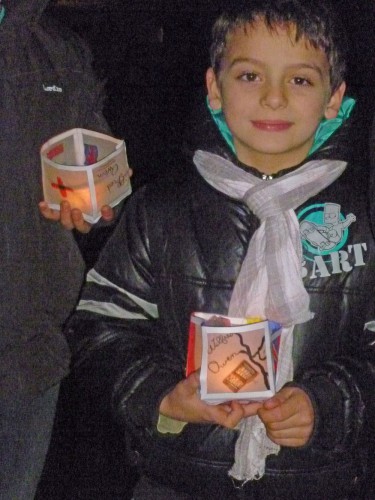 Three months ago the Dunsden Owen Association was formed to promote Wilfred Owen's connections with the area and to link Dunsden with the village of Ors in Nord-Pas-de-Calais where Owen died. From 1911-13, the great war poet was lay assistant at Dunsden Church; his parents and sister lived locally and are buried in Dunsden churchyard.
Five members of the Dunsden Owen Association, John Bodman, Jennifer Leach, Beth & John Timms and Linda Glithro, visited Ors this month, as guests of the mayor, Jacky Duminy. The visit was timed to coincide with the annual commemoration service remembering Wilfred Owen's death in Ors on 4th November 1918 - just a few days before the end of the war.
The short, well-attended service took place at the village cemetery, with military banners and a band playing the British and French national anthems. John Bodman laid a wreath on behalf of the Association, and children from the village school placed decorated lanterns before his grave. Peter Owen, the late poet's nephew, and Damian Grant from Lille University read some of Owen's poems. Beth Timms, chair of trustees for Eye and Dunsden village hall, said, 'After the ceremony, we enjoyed a feast of Normandy fare at the Salle de Fêtes and were entertained by a wonderful group of French musicians, the Inishmore ensemble, who played haunting traditional Irish music, interspersed by readings of Owen's poems. We were able to speak to the villagers and to other French and English people who are interested in Owen's work'.
During the visit, the group also visited the Forester's House where Owen spent his last days, in a small smoky cellar with eleven other soldiers, awaiting orders. In 2011, the cottage was turned into a memorial that pays tribute both to the last moments of Owen and his men, and to the contemporary and universal nature of the poet's work. Recorded readings of Owen's poetry (read in English by Kenneth Branagh) are powerful and moving. Jennifer Leach said, 'The cottage, Maison Forestière, is entirely white and looks like a sculpture, standing out like a 'bleached bone' in the forest. The dark cellar, in contrast, remains untouched. It is a wonderful and fitting memorial'.
The Dunsden Owen Association is planning a series of events next year to include a late evening Concert Vigil on 4th August led by the Choral Group A440; an audiovisual walking trail, to be launched in September with a film by Jennifer Leach of Outrider Anthems, and a new work by composer David Breeze; on the weekend of * November there will be a concert of music and poetry; and an exhibition of local war memorabilia.
Jacky Duminy, the mayor of Ors and a number of villagers will join the celebrations in 2014, establishing community links between Ors and Dunsden. If you are interested in learning more about these events or the Dunsden Owen Association, please visit the website, http://www.dunsdenowenassociation.org.uk or the Dunsden Owen Association Facebook site.
Monday, 04 November 2013
After the blast of lightning from the east,
The flourish of loud clouds, the Chariot throne,
After the drums of time have rolled and ceased
And from the bronze west long retreat is blown,

Shall Life renew these bodies? Of a truth
All death will he annul, all tears assuage?
Or fill these void veins full again with youth
And wash with an immortal water age?

When I do ask white Age, he saith not so, --
"My head hangs weighed with snow."
And when I hearken to the Earth she saith
My fiery heart sinks aching. It is death.
Mine ancient scars shall not be glorified
Nor my titanic tears the seas be dried."
Lines from the second verse are inscribed on Owen's grave.
Dominic Hibberd wrote: "The sonnet may be read as a comment on war, but one could hardly call it a war poem. Its conclusions go back to Owen's loss of belief in immortality as he watched the Dunsden children, its imagery to the 'thrilling' military band and the stunning sunlight at Merignac….."