Monday, 23 June 2014
A440 in concert to mark WW1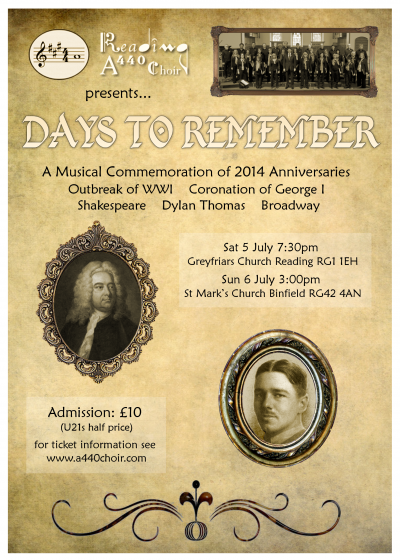 Dunsden Owen Association's partner organisation the Reading A440 Choir is performing in two concerts locally this July. They will mark a number of special 2014 anniversaries, including that of the outbreak of the First World War.
The concerts will include the first ever performances of a new drama, 'Travelling with Handel', by the choir's Artistic Director, Patricia Beall Gavigan, with Jeremy Radburn, playing Handel. The evening will also include 'The Hope of Peace' – a narrative on WW1 with readings by award-winning narrator Peter Pearson.

Tickets are available on A440 website and also on the door, but are selling fast, especially for the Binfield performance.