Wednesday, 29 October 2014
Final plans for Wilfred Owen exhibition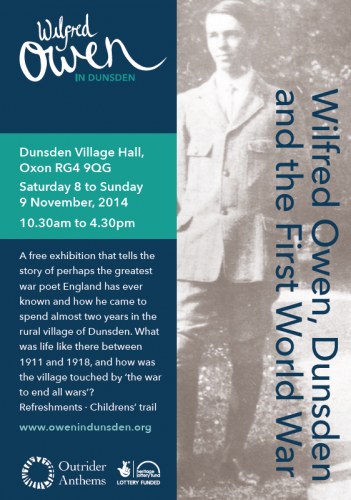 The finishing touches are being put to our exciting exhibition for Dunsden Village Hall, RG4 9QG on 8 to 9 November. Local schools are invited to visit by arrangement on Friday 7 November.
The exhibition tells the story of Wilfred Owen and his time in Dunsden, together with an account of the impact of the First World War on this small rural community. It will feature poignant stories from the lives of local men who were sent to fight in the 'war to end all wars'.
Oral histories linking back to 1911-13 when Wilfred Owen was in Dunsden, local archives, and the letters of Owen have all helped build this fascinating story. There will be a poetry corner where visitors can create their own poems, a 'room setting' depicting life in rural Dunsden in the WW1 period, and a children's trail.
Emma Banks, Curator of the WWI Exhibition, whose last two projects both won the BBC's Restoration TV programme, says 'The Dunsden Owen Association welcomes individuals or organisations who can loan artefacts or stories about WWI that can be used as part of the exhibition. We had great success with our 13 July Mementos and Memories Day at Dunsden Village Hall, with visitors sharing their stories and material items such as medals relating to WWI.
'We encourage anyone interested in WWI, Wilfred Owen and his poetry, or who has physical materials that can be used as part of this exhibition to get in touch and learn more about our vision and how to get involved.'
Refreshments will be available at the event. A local community choir is also hoped to be performing over the weekend. We are very grateful to all our sponsors and to those who have lent objects for the exhibition.