Thursday, 30 January 2014
Meeting hears of grant from HLF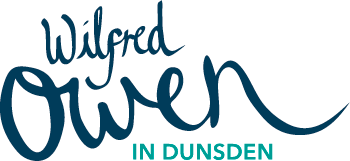 A successful meeting last night heard that Dunsden Owen Association hopes soon to confirm officially that its partner Outrider Anthems has been awarded a grant of £22,800 by the Heritage Lottery Fund. The grant is for the development of a Wilfred Owen Trail, an interpretation board on the village green and a programme of oral history recordings. It will also cover the cost of a special exhibition to be held at Dunsden Village Hall, including marketing and publicity.
Members also heard that the Association is delighted with its new logo designed by students at the Department of Typography & Graphic Communication at the the University of Reading. The students are also working on a new website which will soon be at www.owenindunsden.org.
Members were invited to be part of a possible informal visit to Ors in northern France around 15 August. Dunsden is building links with the place where Owen spent his last night and the visit will coincide with the annual river jousting competition there.
Our first local event will be a concert and vigil at All Saints Church, Dunsden on Monday 4 August. This will mark the day on which Britain's ultimatum to Germany expired and 'the lights of the world went out'.