Sunday, 13 April 2014
Reclaiming WW1 poetry: a 'No Glory' event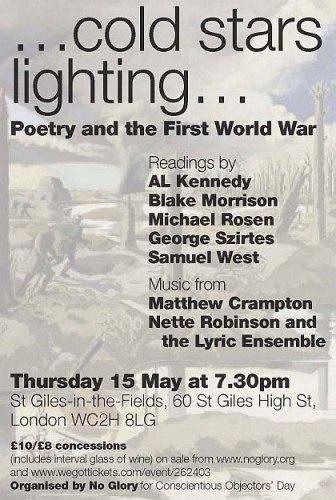 A special night of poetry organised by No Glory to commemorate Conscientious Objectors' Day on 15th May. Speakers include AL Kennedy, Blake Morrison, Michael Rosen, George Szirtes and Samuel West reading from both their own work and that of the war poets.
"Given the recent attacks on the war poets by the government-backed revisionist historians, it's important to reclaim their centrality to our memory of the first world war. We're calling the event …cold stars lighting… taken from Wilfred Owen's poem (I Saw His Round Mouth's Crimson)

And in his eyes
The cold stars lighting, very old and bleak,
In different skies.

There'll be music, too, from Matthew Crampton and Nette Robinson & the Lyric Ensemble.